Aquarium Reviews - Adventure Aquarium Camden NJ
What a treasure New Jersey has in its new and improved Adventure Aquarium! This is one of the most documented aquariums I've seen-what I mean by that is there is a wealth of information presented in an entertaining manner next to many displays. For example, in the tank with the Archer Fish there is a "sidebar" hands on demo of how the archer fish shoots water to catch an insect. Where the piranha are is a scarey video of the piranha totally destroying a big white bird (that is really the only scarey video; don't worry). Children and adults can pull levers, slide things, start video explanations, etc. And Adventure Aquarium has some interesting small tank displays of creatures I was not familiar with, for example the four-eyed (sections, really) fish which can see above and below the water at the same time. And the quite wonderful short-nosed batfish and the rock fish.
They also have lovely coral reef displays and the graceful lionfish and scorpionfish. For some time they also had the fishes which shown in the dark; I hope they return.
They have some almost open air beach type displays (Caribbean Currents) and there an aquarium attendant will let you meet a couple of tropical birds, like a parrot or macaw.
There is Irazu Falls (2-story high waterfall) with large pacu and sting rays. And Ocean Theater (760,000 gallons)where you get to see 400 lb. Bob and other endangered huge (loggerhead, green) sea turtles. Now these interact (as do rays and eels) with two divers who are feeding them and who also talk to the attendant who gives a learning session because Ocean Theater is a theater with lots of comfortable seats facing a humungous water environment (which huge tank has several other viewpoints in the building).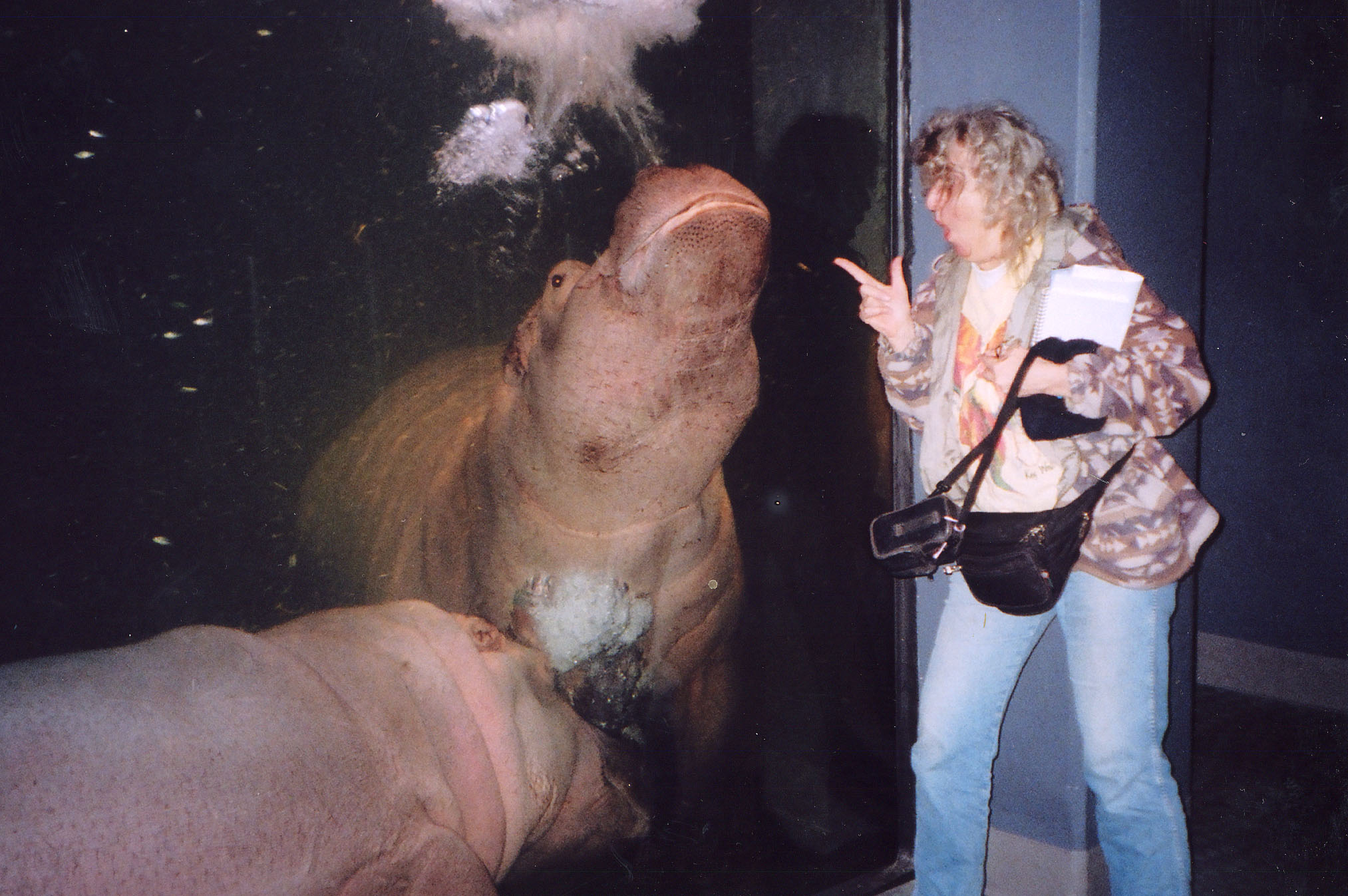 Hippo Surprise"
There is a shark tunnel which so many are fascinated with-watching these creatures float over you is a thrill. But one of the best environments in the African one-with two large hippos! I had never seen hippos in an aquarium before and it is fascinating, especially since you can see them from on top of the water, but also through the glass walls. Also in that display are African birds, some rather tame, and a big porcupine.
Adventure Aquarium also has an IMAX Theater with at least two different shows, one especially child-oriented. There are special effects with moving seats and spraying water for some shows, too.
Outside there are penguins and seals and there is also an excellent large gift shop and cafeteria with great views of the Delaware River and Philadelphia just across the river. The aquarium is in a handsome and spacious setting right on the river.

Email comments to:
Copyright © 2007, Diana W. Patton, All Rights Reserved (08/31/07)