Aquarium Reviews - Maui Ocean Center
I've been to Maui Ocean Center many times, but it remains endlessly fascinating. It is all about Hawaiian marine life, from the creatures in the tidal pools to those along the shallow reef areas, to those in deep waters. You go to the aquarium before you snorkel and you get a feel for what you'll experience underwater. You go after you've snorkeled and you recognize your new friends of the ocean. Of course here it is easy to see the fishes and all in the crystal clear aquarium waters and here you have their I.D.s and you can ask questions of the naturalists.
My favorite part is "the Living Reef", the building where I can spend hours because it is so beautiful and lively and interesting. But the rest of the aquarium is just as lovely, and much of the beauty is outside. You can wander from Turtle Lagoon to the Tide Pool to Hammerhead Harbor and then go inside the Marine Mammal Center and learn about the humpback whales (these wondrous creatures visit Maui from December to May for courting and calving). You can also learn about ancient Hawaiians and their relationship with the sea. And you get to go through an acrylic tunnel so the large predators and tropical fish are all around you. The weather is always great (if there's rain, it's brief, and besides, the weather is mild), and you can eat outside. The gift shop is tempting beyond words. Buy your souvenirs here—décor, jewelry, great books for all ages, foods, ornaments, and much more. Oh, yes, the Aquarium is in Ma'alaea, so it's possible to combine an early morning snorkel trip to Molokini with an afternoon visit to the Aquarium (and then eat dinner at one of the restaurants in the adjoining mall). The Aquarium is open 365 days a year. Enjoy!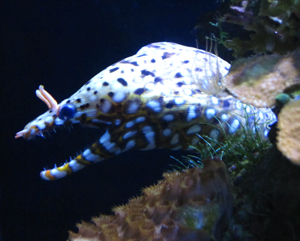 Email comments to:
Copyright © 2012, Diana W. Patton, All Rights Reserved (04/06/12)