Aquarium Reviews - New England Aquarium
I never have enough time here, even with skipping the IMAX presentations—and there are three or four IMAX presentations you can go to. But there is so very much to see. Yes, the usual wonderful coral reef displays and of course sharks and displays or environments of fish and sea creatures local to the area. But there are several unique, or nearly unique, exhibitions.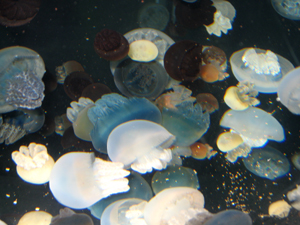 Some of my favorite displays are those of the jellyfish. Most aquariums have the obligatory tank or cylindrical display of "moon jellies", those graceful and hauntingly beautiful jellyfish, but the New England Aquarium has tanks of jellies on two floors! All kinds of jellyfish from around the world, with a history of the jellyfish besides. Jellyfish have been with us in much the same form for eons! Their secret of survival on this world? Simplicity (you have to see this--). I can and do watch them for a long time! You simply must see "blue blubber" or "octopus jellyfish"; in blue, white, or chocolate brown, they are great little creatures!
Of course much of one level is the over 130,000 gallon exhibit/habitat of penguins: the African penguin, the rockhopper (crested), and the little blue (fairy) penguins. You'll watch them swim, float, groom each other (yes, I saw 3 little blues picking at each other), and squawk—just listen to the rockhoppers "converse". It's hard to describe how large this habitat is but it's sort of a square and you can see it on four different sides. There are good talks and question and answer sessions and the "rocks" themselves are cleaned each day for a couple of hours by we-suit garbed aquarium attendants. The seasons change inside by means of different lighting effects and the penguins then even know when to mate!
Rising above the center of Penguin Square (my name for it) is a 200,000 gallon cylindrical Caribbean coral reef exhibit, the centerpiece of the NE Aquarium since 1969. Not to be missed! You walk around and around and there are many windows and viewing places. But I actually enjoyed all the separate environments even more-separate coral reef exhibits so large and colorful, and such exhibits as brackish water environments and freshwater and Amazon River and of course North East (DownEast) water environments. Fun to hear adults and children when they view the giant lobster, or (in a different tank) a red(orange) lobster, a white lobster, and a startling blue lobtser.
There's more but leave time for the gift store, because the New England Aquarium has by far the best book selection of any aquarium I've ever see. I always just have to buy 5 or 6 books each time. Seriously. Think of gifts for others, too. Both adult serious study books and photo study books, children's picture books, computer disc enhanced books, and more. This is a bookaholic's paradise!

Email comments to:
Copyright © 2007, Diana W. Patton, All Rights Reserved (09/14/07)