Aquarium Reviews -
Aquarium of Niagara, Niagara Falls, New York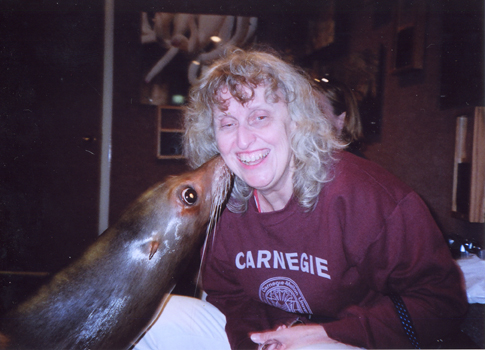 Oh, my, we just happened to be passing (sort of) through Niagara Falls on our way from Pittsburgh to upstate New York, so of course I had to visit the Aquarium of Niagara. Do make time to see it instead of just staring at the Falls. Such a gem! And although it is small when you think of the Baltimore Aquarium or the Aquarium of the Pacific, it is a gem. I was there on a weekday, a school day, a quiet day, in the late afternoon, and so I was able to "commune" with the fishes quietly, at my own pace, without crowds. I swear I felt some of the fishes were glad to see me-just staring and staring and admiring them. The exhibits are varied and well-labelled. There is a lot to enjoy, and yes, there is a really nice gift shop. Guess what? There is a seal pond outside.
There is a lot to see, but what made this day special for me was the seal show. Okay-it was the last show of the day on a quiet weekday-there is a 100,000 gallon tank for them to perform and plenty of seating-but it was now 4 or 4:30. There were perhaps 8-10 people there. I had a never-before and probably never-again experience. The trainer said that one of the seals would come up to the second floor and perform in front of us, not in the "theater/pool" . Oh, my! This lovely seal came up in the elevator with the knowledgeable lady trainer—this lovely seal did "tricks" one foot in front of us (we were sitting on a bench) and then the seal kissed our cheeks, patiently, one by one, where we, ecstatic, received her kisses on the cheek (slightly fishy breath), and took photos of each other. What a great afternoon!

Email comments to:
Copyright © 2007, Diana W. Patton, All Rights Reserved (09/13/07)